May 2022 - Pint of Science

How much about human health can we learn from a single blood test?
Riccardo
discusses some of the group's latest findings as part of Edinburgh's Pint of Science festival.


May 2021 - Art-Science Project

Danni
took part in the annual ASCUS Art and Science collaboration, in which five scientists are paired with five artists to create artwork inspired by the research of the scientist.
Danni was paired with London-based artist Kym Coratin, a B.A. Hons. Painting Degree student with the Open College of the Arts,  and through a series of virtual workshops they delved into the themes behind Danni's research. One of the images Danni showed Kym was the structure of DNA. They discussed the importance of genetic, epigenetic and proteomic data and how each of these biological layers can uncover something about the health of an individual. Danni's exhibit is pictured below. For more details on the project, please see
here
.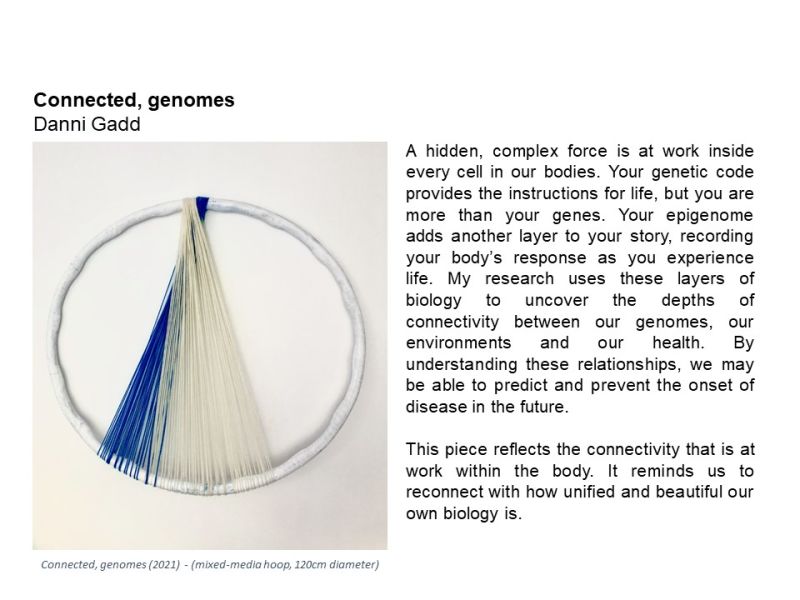 Feb 2020 - Dementia Centre Visit
Daniel, Riccardo and Rob visited the Bridgeton Dementia Resource Centre  where they spent the morning chatting to individuals with early-onset and late-onset dementias and the care/volunteer team. In the afternoon we headed to the Gorbals Sports Centre to play table tennis and boccia with another group of adults living with dementia. We are extremely grateful to Alzheimer Scotland for facilitating the visit and to the Bridgeton and Gorbals teams for being so accommodating. We hope to making this a regular group event once lockdown restrictions have eased! 


Oct 2019 - House of Lords Ageing Inquiry

Riccardo
was invited to be an expert witness for the House of Lords Science and Technology Committee's Ageing Inquiry. He discussed the current and future use and application of biomarkers of ageing to improve the health span of the population.
You can watch the session
here
and read a copy of the transcript
here
!  Feel free to laugh at his inability to open a bottle of water.
Oct 2019 - Hannah Mackay visit

We were delighted to host Hannah Mackay for a morning to talk about all things genetics and dementia. Hannah found out in her mid-30s that she carries a genetic variant that will result in early onset dementia.
She visited us as part of a UK-wide fundraising tour for the Alzheimer's Society. Find out more about Hannah's journey and fundraising
here
.